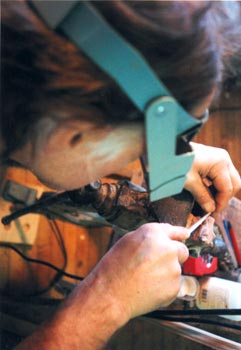 Bruce Bulger wants to capture beauty. To this end, he is a custom woodworker and fine artist based in Deer Isle, Maine.
Bruce's furniture is influenced by classic English and early American work, but he is not a reproductionist; his furniture is functional, and, moreover, says Bruce, "It's influenced by my idea of what's beautiful." Working with native lumber—Maine pine and maple, Adirondack cherry—he seeks to preserve the beauty and feel of wood. "When a piece is done," he says, "It has to stand in space on its own; it has to be beautiful."
Bruce brings the same sensibility to his drawing and painting. The flowing curves in his table legs echo the curves in his charcoal and watercolor figure drawings. While his drawings primarily depict nude figures, his oil paintings portray nature—rocks, trees, and landscapes. "I'm trying to capture the moment," Bruce says of his paintings, "It's about capturing the beauty of where you are."
A Connecticut native, Bruce Bulger graduated from the Philadelphia College of Arts with the intention of becoming a medical illustrator. But his interests took him elsewhere. "Figure drawing took over," says Bruce. "Figure became the emphasis."
In the nineteen-seventies, Bruce moved to Deer Isle, where he began to build his own house, applying his drawing skills to the geometric challenges of carpentry. "I learned the ability to draft the vision, and create the vision," he says. This led him to cabinetry; soon, he was creating commission furniture pieces.
After two years of working from home, Bruce moved his studio to his present location, the former Deer Isle High School building in downtown Deer Isle. The building's second floor holds his paintings and drawings; downstairs, he maintains an extensive cabinetry shop along with a small gallery.
Over his 30 years of work, Bruce Bulger has built hundreds of commission pieces for clients throughout New England and the United States; he has built tables, cabinets, beds, chairs and grandfather clocks. Likewise, his paintings and drawings have been shown at many Maine galleries.
All of his work begins as a vision; this vision is translated into a drawing, a painting, or a piece of furniture. The goal, says Bruce, is to portray beauty, and "the excitement of something unique."

Biography by Isaac Kestenbaum